We are pleased to announce that we will be continuing the publication of the HealthKeepers Magazine! The magazine has been bringing natural health news, updates and information to our readers for many years now.
It is truly a blessing to be a part of educating the public on natural health and all the wonders it has to offer. With so many great resources and ways to learn about natural health we are thrilled that you are willing to be a part of our journey. As a thank you for your continued loyalty and support we will be sending out a complimentary issue before 2013 comes to a close.
We look forward to a bright future of learning, living and loving all things natural!
The HealthKeepers Magazine Staff
---
Welcome to Healthkeepers Magazine
HealthKeepers Magazine was created to provide professional, educational and legislative information on alternative and natural health issues. Our goal is to encourage, inspire and protect the rights of those individuals who choose to pursue healthy lifestyles and provide natural health care services.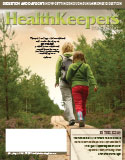 Fall 2012 Features:

Editor's Notes
Be Involved
It's As Good For You As It Is For Others
My parents were, and still are, the most meaningful influence in my life. They taught me the value of being involved. Both of them were active in their community and worked to support the causes they believed in. My mother served on the committees of a number of community organizations including the Salvation Army. When my dad felt the need to make something happen, he would immediately get involved in the specific organization that had the power to influence change. He used to say to me "Julie, remember every voice makes a difference. If you don't get involved, you can't complain about the outcome." Words to live by.


In the recently published report by the National Cancer Institute, Surveillance Epidemiology End Results (SEER) Cancer Statistics Review, nearly one out of every two Americans born today will be diagnosed with cancer. If you are diagnosed with terminal cancer, you will likely discover sooner or later that FDA approved treatments (radiation and chemotherapy) are rarely curative and ordinarily present risks of secondary cancers and other life threatening complications. You will also discover that, with rare exception, those who go without FDA approved treatments live as long, if not longer than those who receive approved treatments.